Clean Tile Grout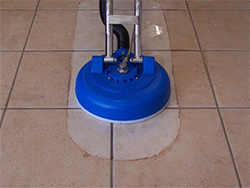 Having a tiled kitchen is a simple way of adding style, sophistication and beauty to your home. Then again, in terms of cleaning, it is really easy to get confused on how to do it properly. Improper cleaning of kitchen tile can lead to damage and may cause the tiles to lose their shiny look. Surely, you would really want to keep the beautiful look of your kitchen tiles and make them last for many years.
If you're reading this article, you're maybe one of those careful homeowners who want to keep their kitchen tiles clean without getting destroyed. Well, you got the right article for here, you will be given cleaning tips that can keep your kitchen tiles clean without damaging its look.
When it comes to cleaning your kitchen with tiled flooring, there is no need to worry for cleaning it is really easy. Just like how you clean a regular tiled floor, all you need is a floor mop damped by water and soap. Just wash your tiled-floor's surface and making sure that dirt and stains are properly removed. Do this process at least once in a week.
The kitchen is the area where you prepare your meals hence its tiles are more prone to stains. Whenever there are stains on your tiles, one needs to become more aggressive when it comes to cleaning. In order to clean the stains from the tiles, you will surely need a household cleaner (without chlorine or other harsh chemicals) and nylon scrubbing pad. Place ample amount of the household cleaner directly unto the stain and allow it to stay there for 30 seconds. Afterwards, scrub the stain from the tile in a circular movement with the nylon scrubbing pad.
With tiled kitchen floor, it can't be avoided that you need to clean the dirt from its grout. In order to clean your tiles without damaging them, you'll have to use a toothbrush and non-abrasive cleaner. Pour ample amount of the cleaner to the grout. Then softly scrub the grout using the toothbrush until all the dirt is removed.
Since it is in the kitchen where food and meals are prepared it also cannot be avoided that your tiles will get stubborn stains. In order to get rid of these stains, you'll have to mix equal amount of water and vinegar. The mixture is effective in getting rid of stubborn and sticky stains and unpleasant odors. If the stains are really hard to remove, put some water-vinegar mixture unto the stain followed by a chlorine-free cleaner. Scrub the stained surface in circular motion using a toothbrush.