Clean Air Ducts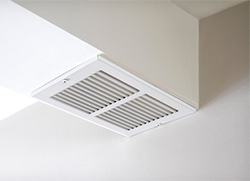 A newly cleaned system will run more efficiently than a dirty one, resulting in lower utility bills, and a cleaner, less dusty home. More importantly, clean air ducts can have a significant positive impact on your family's health. Dirty duct systems are a major source of indoor air pollution. Airborne contaminants are pulled into the ducts every time the heating and cooling system runs.
Over time, these contaminants build up inside the ductwork, creating an ideal breeding ground for mold, bacteria, fungi and other microbes. Particles drawn into the air ducts also pass through fiberglass filters and infiltrate into HVAC equipment, undermining the performance and energy efficiency of these systems. This can lead to higher repair and maintenance costs, and shorter service life in the long run. According to the EPA, a build-up of only 0.42" of dirt on a heating or cooling coil can decrease efficiency by 21%.
Fortunately, we're here to help, we guarantee punctual, expert and dependable services. We use only state of the art equipment to provide you with the absolute best possible services. By choosing us you are making the right choice for your home or office safety and cleanliness. Give us a try and feel the difference.
Your ductwork may be cleaned as part of a regular home maintenance schedule. It might also be cleaned after a roof or pipe leak, fire or home remodel, or after visible signs of mold appear. If a family member develops health issues, look to your duct work for a possible source. Microbial and particle growth may be the culprit.
Although often referred to as "air duct cleaning," the reality involves much more. When properly done, your entire heating and cooling system is cleaned -- not just the duct work. See below for more information on the cleaning of the HVAC system.
HVAC units deliver heating, ventilation and air conditioning functions. They are programmed to deliver thermal comfort and an acceptable indoor air quality. HVAC systems are the "air handlers" -- meaning, air is driven by the HVAC system through the ductwork. It is important that both the ductwork and your HVAC system are cleaned comprehensively.
It is important to have your dryer vents cleaned regularly. Dryer fires endanger homes and are preventable. A clean dryer vent is also more energy efficient.