Cleaning Carpet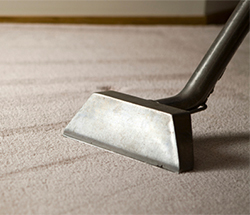 Our team is known as one of Houston's most experienced and trusted carpet cleaners. We understand that your carpet is one of the largest investments you'll make in your home. It is also regularly exposed to dirt, stains, and the wear and tear of daily use. Plus it can harbor allergy causing contaminants and dust mites that you can't see, but that get deep into the carpet fibers.
This is the dirt that surface cleaning just can't eliminate. In fact, your carpet collects more dirt than you realize: it traps and holds smoke, heating fumes, oil from cooking, as well as dust, pollen and bacteria. It's actually this dirt, not just daily wear, that erodes carpeting and shortens the life of all types of fibers. Many types of cleaning products such as detergents, shampoos, and foams can be messy and actually damage your carpet fiber, potentially voiding your manufacturers warranty.
Only deep, professional cleaning by certified technicians can preserve the life and beauty of your carpeted floors. No one can clean and protect your carpet like we can. We spot clean, and treat any problem area where there is heavy foot traffic, pet stains and odor. We use our special truck powered vacuum system along with our special restructured water to deep steam clean and revitalize your carpet.
Our unique and patented cleaning process ensures that there are no chemical residues left behind. We have also been able to reduce the dry time after cleaning to half of the time of our closest competitor. Dirt free technicians will always pre-test the dirtiest area of your carpeting to insure you will be happy with the end result. There is never any type of charge for pre-testing, and we guarantee your satisfaction. They will also pretreat and spot clean problem areas with an all natural pre-spray to remove stubborn soil and stains left from spills. Call today and take advantage of one of our many carpet cleaning specials.
Just like a favorite dress, shirt, or pair of pants, many people become very attached to their furniture. When you think about it, is there a surface that you contact more than your furniture? You can trust us to clean your furniture with the method recommended by the manufacturer. Our certified upholstery technicians are familiar with all types of common material as well as leather and exotic blends.
Our technicians will always test clean a small area of your upholstery to ensure you will be satisfied with results.There is never a charge for our test. This type of service is unheard of in our industry. Most carpet cleaning companies are too scared to test clean upholstery because their equipment is too weak to give you the results you want. In recent years, many homeowners have decided to furnish their homes with leather upholstery. Our team has responded to this new demand for cleaning by pioneering a whole new, safe method of leather cleaning and conditioning.