Clean Dryer Ducts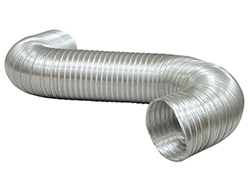 There are many reasons to get your dryer vents cleaned. A clothes dryer can catch fire. The August 2012 report by the U.S. Fire Administration noted that over 2,900 dryer fires occur every year with over 35 millions dollars worth of property loss, 5 deaths and over 100 injuries reported. Failure to clean was the leading contributing factor that led to these fires.
Improves both safety and efficiency of your dryer. Prevents possible carbon monoxide (CO) leakage (gas dryers). Less wear and tear on your dryer because of reduced usage prolongs the life of your dryer and lessens the need for unforseen repair or replacement cost. Improves both safety and efficiency of your dryer.
Save on utility bill with reduced drying times. The clothes dryer is second only to the water heater in power consumption. Faster drying times mean lower utility cost.
How should the dryer vent be cleaned? Well, it all depends on several factors such as the number of monthly loads, the kind of laundry washed (diapers, towels and other high lint producing items). Other factors would be the length of the vent and the number of elbows in vent run. Dryer manufacturers recommend the dryer vent be cleaned annually.
For those living and working in the Houston area, humidity and pollutants are a challenge to your air duct and HVAC system. Mold, mildew, microbes and spores thrive in the climate, threatening air quality and your health.
Spring time pollen, dust mites, animal dander and harmful pollutants all build up in your duct work and heating system month after month, year after year. Statistics show that many illnesses are caused by or aggravated by polluted indoor air. Protect your family, employees and customers by ensuring they are breathing clean air in your home and business!
We are leading and reputed air duct and house cleaning company of Houston, Texas. We are one stop shop for all your needs concerning air duct cleaning, carpet and upholstery cleaning, dryer vent cleaning, indoor air quality products and house cleaning services in Houston, Texas.